New Year's Day Gala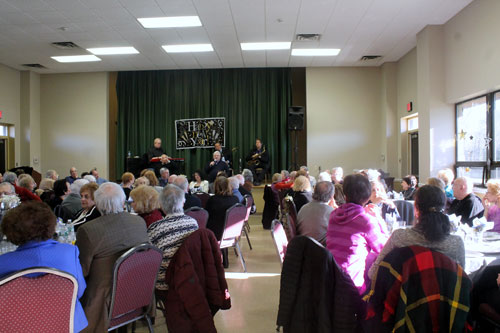 The Seniors Activities Committee began the New Year with another successful event. The brunch featured the fine food of Kitchen Kabaret, a singer who performed Motown music and musicians playing background music.
The members and guests at the SAC event truly enjoyed themselves and celebrated together with the strongest community spirit. Along with Mayor Koblenz who spoke about the many successes of SAC and the community during the prior year, board members Manny Zuckerman, Deputy Mayor and trustees Gary Leventhal, Clara Pomerantz and Brian Meyerson joined in the festivities. "We all take great pride in living in our fine community and I am very proud of my committee members who made this event so special," Natalie Mansbach stated "There is no better way to ring in the New Year than to celebrate together with our friends."
"The event's success was a good glimpse into the exciting upcoming year that the Senior Activities Committee has planned," Mayor Koblenz stated. The Mayor went on to add, "The Senior Committee devotes a lot of time and effort to make sure that each and every event they host is a great success. Their concentrated efforts certainly paid off with the holiday party."
Other upcoming events now planned for 2015 include Dinner and Military Bridge on January 17, 2015, A Farewell to Arms Book Club on January 27, 2015, China Then and Now Museum on February 26, 2015, Vanya and Sonia and Masha and Spike Theater Party on March 8, 2015, Toning and Stretching Classes from March 10, 2015 to April 21, 2015 and Spring Session of Technology Workshops from March 23, 2015 to May 3, 2015.
The Senior Activities Committee are Natalie Mansbach, chair, Irving Chernofsky, treasurer, Phyllis Friedlin, secretary, and committee members Eileen Reed, Barbara Klein, and Stanley Stern.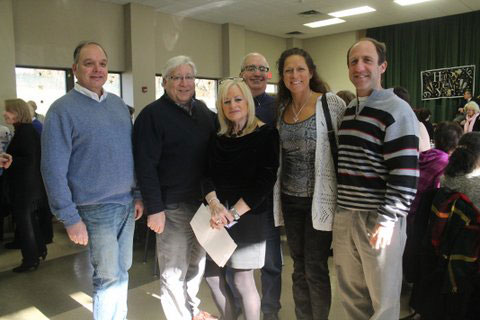 Board Approval – Mayor Koblenz and SAC Chair Natalie Mansbach shown with, from left to right, Trustee Gary Leventhal, Deputy Mayor Manny Zuckerman, Trustee Clara Pomerantz, and Trustee Brian Meyerson.