Packed Park Celebrated 85th Anniversary of East Hills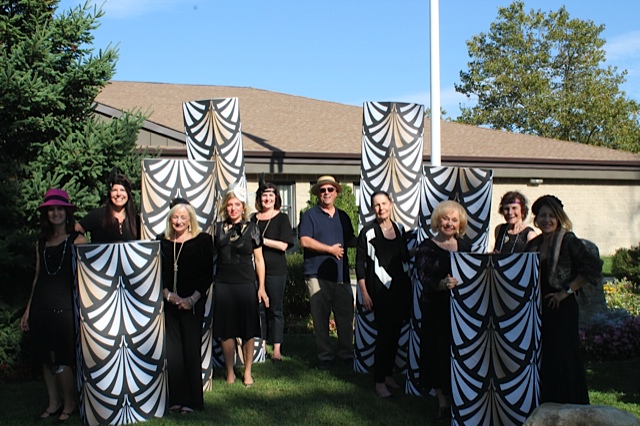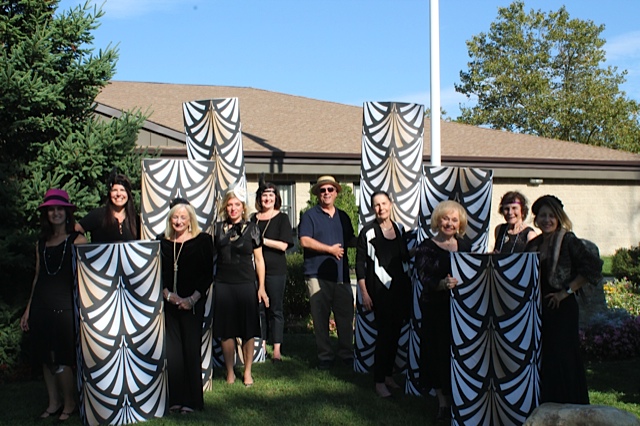 The Village of East Hills celebrated its 85th Anniversary in grand style on Saturday, September 3, 2016. "It was a great day for a great community." said Mayor Koblenz who was honored during the festivities for procuring, planning and building the Park at East Hills. "We tried to have something of interest for everyone" said Natalie Mansbach, Chair of the event. The program included actors dressed up in Great Gatsbsy-era garb which lent a celebratory effect. Three miniature trains visited various venues in the Park to delight youngsters, and equally thrilling was the Art Expo which featured the talents of the residents today. "It was a dynamic event when thousands of residents and their guests attended the celebration over the course of the day. We are very proud of our history and the traditions of the past, but we are also delighted to live here today" said Trustee Stacey Siegel, who helped plan and organize the event.  Also attending and joining in the festivities were Board members Deputy Mayor Manny Zuckerman and Trustees Clara Pomerantz and Brian Meyerson. The other members of the 85th Anniversary Celebration Committee included Deborah Adler, Eva Drabkin, Sari Flesch, Jane Goldberg, Eleanor Mueller, Leslie Lewit Milner who handled the decorations splendidly, and Dr. Alan Richards and his wife, Ellen Richards.
The event also featured decorations throughout the Park  programs with the history of the community and the Park, a special jazz brunch, a spectacular concert, prizes, a mocktail hour, an historical presentation, a puppet show, petting zoo, pony rides, inflatables, games, and even vendor booth raffles and give-aways.
Here's a rundown of the many specific attractions: A train ride around the Park stopping along the way to see Disney Characters, a puppet show, an old-time baseball game at the Sports fields led by the Old Bethpage Village Restoration, an Art Exhibition by residents of all ages, a special display of historical pictures by the Town of North Hempstead historian, Howard Kroplick, and an art mural signing created by Village resident, Dr. Alan Richards. Additionally, participants and their families were invited to celebrate their creative accomplishments at an Artist Reception with complimentary refreshments and Certificates of Distinction given to participants by Mayor Koblenz. At the Theatre Lawn there were Carnival Games, Craft Activities led by The Little Art Studio of Williston Park, A Music Station by Bach to Rock of Port Washington, Pony Rides, A Petting Zoo, and a Jazz Brunch at the Grille with music by Paul Carlon Trio. All was enjoyed immensely. Guests and children received complimentary caricature drawings. The events seemed like they never ended. The day's festivities also included an, Officials Functions, including a tribute to the Mayor; a Concert, poolside, by the FiveStone Band sponsored by the Town of North Hempstead, and a Mocktail Party at the Grille with complementary soft drinks, mini-appetizers, and even a "Make Your Own Sundae" bar for the children. There were all-day vendors at the pool for shopping & browsing, with raffle prizes. The vendors included A Little Bit of This, FRNGwear, Kostume Classics, author Linda Miller, Little Roxx Clothing, and Pamela G. Accessories.
Natalie Mansbach, Chair, Trustee Stacey Siegel and the 85th Anniversary Committee members expressed their appreciation to sponsors on banners, in the official program given to all residents, and in their many communications. The Gold, Sponsors included: (Alphabetically) Bach to Rock – Port Washington; Daniel Gale Sotheby's International Realty, Roslyn Office/Wells Fargo Home Mortgage; Garden City & Bethpage; and Joyce Styne of Laffey International. The Silver Sponsor was Kitchen Kabaret of East Hills. The Bronze Sponsors were Americana Manhasset, and Martin Brothers Construction Corp. The Friends of East Hills included: (Alphabetically) Cakes with Character by Jean; Holiday Farms, Roslyn Supermarket; Lesters of Greenvale; The Little Art Studio – Williston Park; Wheatley Plaza
Super Bowl Mayor Honored
A special part of the program involved seven residents of East Hills honoring Mayor Michael Koblenz in a surprise tribute. The comments were followed by the presentation of a specially engraved award. The comments included the following remarks which were often imparted to in an impromptu manner to capture the feelings of appreciation.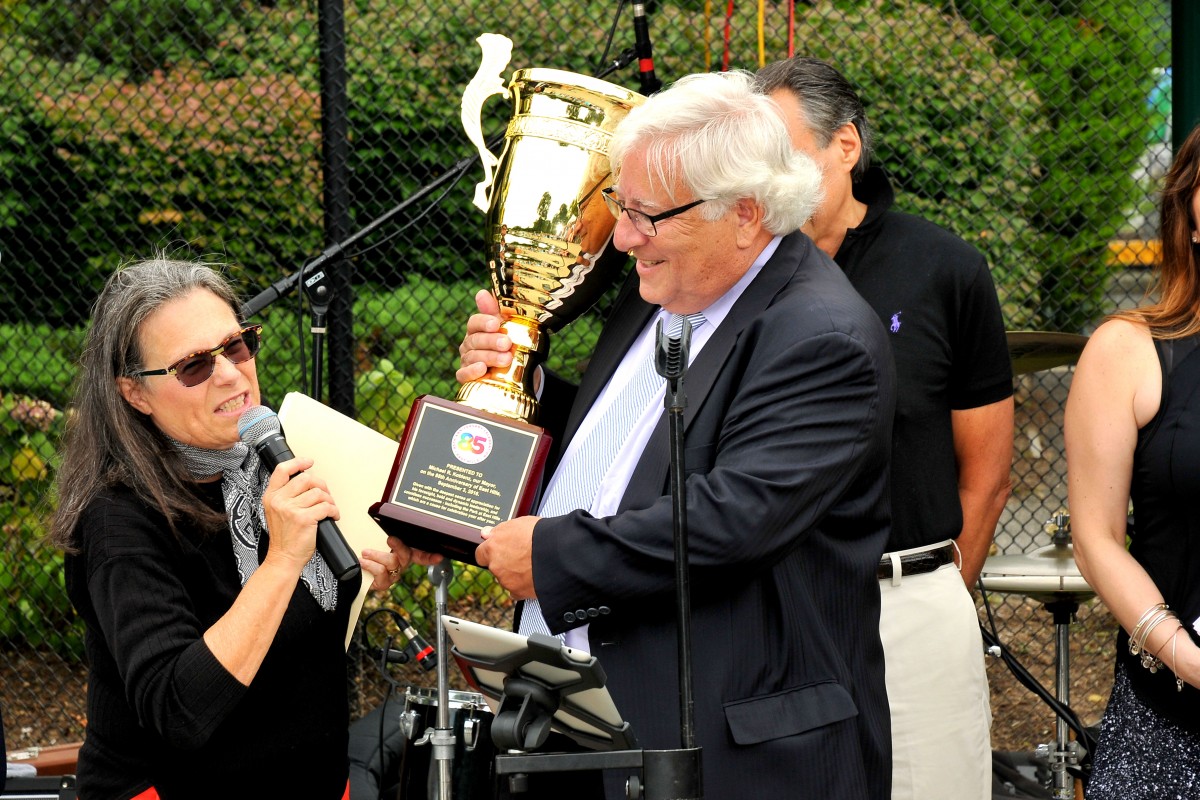 JESS DRABKIN: Master of Ceremonies for the Presentation
"Hi, Welcome to our 85th Anniversary Celebration.  I am Jess Drabkin, and I have served as Chair of the Architectural Review Boards as well as on other village committees. First, let me assure you that our Mayor knows nothing about this. It's more covert than Homeland. That's what makes this part of the program fun for all of us and hopefully you. We want to see if we can make the Mayor blush. That's not an easy task. You see, under the darkness of nightfall we have been practicing some very special remarks for him, and kudos, he truly deserves them. So let me begin, Mr. Mayor. The real bottom line is that there has never, ever lived another Mayor who cares about a community more than you, who works harder for a village, and who devotes more time and attention to make a municipality such a great success. Michael, when anyone looks at this Park and our village, your hard work shows. We are so proud to live here.  We are all here not only to honor the Village but to honor you.
So with that brief preview, let me introduce six wonderfully dedicated civic and community leaders who will share some short remarks. I assure you six speakers does not mean six times as long.
We will begin with Judi Winters who has been involved with every facet of community service for years, and we not say how many, but just a few, a teensy number. She prominently served as the President of Stratmore Civic Association, and she has served on numerous committees. Then, we will turn to Spencer Kanis who is the Chair of the Architectural Review Board; after Spencer's remarks we will continue with Eric Kobrick who chairs our Tennis Committee, followed by Aaron Cohen who chairs the Power/Energy Committee; then Stanley Stern former School Board Chair who now chairs the Seniors Activities Committee, and then at the end of our relay, our Michael Phelps, Jodi Golden, will finish or relay. Not too much pressure, Jodi. Ms. Golden is a member of our benevolent Friends for Friends Committee, and our popular Kids in the Park Committee. So, then, let us begin."
JUDI WINTERS: "Today, we pay tribute to our community's past and give thanks for our present. We live in such a wonderful community. The story of our village began on June 24, 1931 in the era of the Great Gatsby's and John William Mackays on Long Island. Back then we had mansions and lavish parties to welcome many celebrities. Fast forward 85 years to today, and we are so fortunate to be here at this beautiful park which adds life and vitality to our village and brings our community together. But our proud history of grandeur and rare traditions of the past also includes a modern day story of one person's vision, leadership, and tenacity. It is a story of how one man, our Mayor, Michael Koblenz, turned a mere dream of buying a military station and turning it into a state-of-the-art Park into a reality."
SPENCER KANIS: "Michael went to Washington, DC and against all odds, captured this property from the federal government. It was a struggle of great dimensions to convince Congress to sell East Hills the property, particularly because he offered to buy it at about 15% of its actual value. He sought to pay only $3,010,000 to buy the more than 50 acres of land. At that time he was told the land at the military station was worth $50 million. He, therefore, met with the strongest opposition. The Inspector General of the Air Force opposed the deal saying it was way too little money to pay for such choice property in such an excellent location. He said the sale should not go through."
ERIC KOBRICK: "But, Michael persevered. He was unwavering. He submitted opposition papers, brought political pressure to bear, and finally, after a Congressional hearing prevailed. That's why we are all gathered here to enjoy today. But, here's how he did it. The law decommissioning the base said it could be sold for a "negotiated price," not fair market value. He argued he had negotiated in good faith and arrived at a selling price. Thus, for a little over $3 million we now have an asset on our books which is worth $70million.  As then Congressman Ackerman said: "It was the best deal since the Dutch purchased Manhattan from the Indians for $24.'"
STANLEY STERN:  "And now, we can look around and see children and grandchildren in our playgrounds, where soldiers once marched.  We have programs for our seniors at the Park, as well as Kids in the Park events for our children. We can see a beautiful park instead of military barracks filled with asbestos. It is also a fact that this property could have remained with the government and could have had a major postal processing plant, or other government facility right here. We are all fortunate, and it was because of one man that our community was transformed."
AARON COHEN: "And so, on this day, September 3, 2016, we want to pause, and thank Michael for boldly taking the single most strategic step ever in the history of East Hills by obtaining this land for all of us and then building the Park at East Hills. What an accomplishment. But, then too, we thank you and our board for our incomparable fireworks program each year, our instant message responses, the oversight during hurricanes, the updates during snow storms, the generator at Village Hall, and for our exceptional services, like our snowplowing. It's all a wow. You even run a tight ship because you have not allowed tax increases for the past six years. That's incredible. You are extraordinary."
JODI GOLDEN:  "Thank you Michael for building the Park and for building the reputation of East Hills. Your great work has really paid off. We are proud to live in East Hills and we are truly fortunate that you have served our village for over two decades and continue today with the same energy as when you began. That's why, on this, our 85th Anniversary, we wanted to surprise you with this heartfelt tribute. You are, our Super Bowl Mayor, and so we present you with a super bowl which will always be a symbol of our esteem, and our appreciation for being a great and dynamic leader."