First Outdoor Movie Held at Park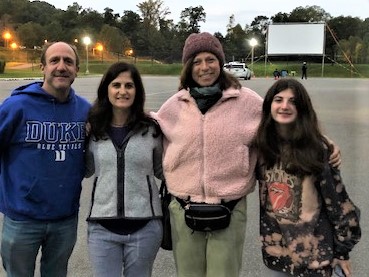 Thanks to the Kids in the Park Committee The Village held its first outdoor movie.
The show was accompanied by an outdoor food Concession run by Jerry Stamantinos. Shown, from Left to Right are Trustees Brian Meyerson, Stacey Siegel, Clara Pomerantz and daughter of Trustee Siegel, Tori Segal. The featured movie was Hotel Transylvania which, at Halloween time was guaranteed to take your breath away.
KIDS IN THE PARK COMMITTEE:
Co-Chairs: Robyn Brattner & Ellie Tulumba
Members: Tracey Fiddle, Elyssa Goldberg, Rachel Liebman, Tara O'Neill, Keri Prestia, Elyse Sentner, Allyson Stumacher & Natalie Viener.
SUPERVISING TRUSTEES: Manny Zuckerman – Deputy Mayor, Clara Pomerantz & Stacey Siegel
THANK YOU TO OUR SPOOKTACULAR SPONSORS!
– SILVER SPONSORS –
JOYCE STYNE, Berkshire Hathaway/Laffey International – (516)-639-9596
PIERCE COUNTRY DAY SCHOOL/CAMP – (516) 621-2211
– BRONZE SPONSORS –
NORTH SHORE DAY CAMP/SCHOOL – (516) 676-0904
NORTH SHORE DENTAL – (631) 944-9918
SCOUT RESIDENTIAL – (516) 200-1098
DENTISTRY OF EAST HILLS – (516) 621-6100
PETRO HOME SERVICES – (516) 349-4129
– CONTRIBUTORS –
FAST – FITNESS & ATHLETIC SKILLS TRAINING – (516) 801-3533
KITCHEN KABARET – (516) 484-3320